Thomas Armstrong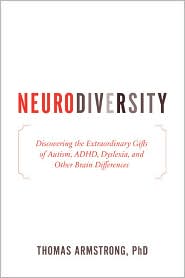 "Neurodiversity." It is a relatively new term, revolutionary even, and award-winning author Thomas Armstrong, Ph.D.'s new book of the same name has the potential to change the way people think about neurological disorders. Neurodiversity seeks to change the mindset of the majority; people have categorized individuals with autism, ADHD, dyslexia, and other brain differences by unfairly limiting their potential and searching endlessly for a way to fix them. What if, however, these differences were perceived like any other unique aspect of the human? What if these differences have their own set of benefits as opposed to being a life sentence of limitation? Dr. Armstrong supplements the book with examples of extraordinary individuals with these brain differences, individuals who have tailored their learning and interactions to better suit their differences, yielding inspirational tales of success and triumph amidst adversity regarding their condition.
Just as specific traits make a person unique and encourage personal and intellectual growth, these neurological differences also support growth by promoting different mechanisms of learning and interaction, producing a myriad of success stories. According to Publishers Weekly, Dr. Armstrong "[emphasizes] that a broader understanding of neurodiversity will generate more respect and better results for people with the conditions he discusses." Neurodiversity is "extraordinary!" according to blogtalkradio.com. It has the potential "to create significant social transformation."
Prior to Neurodi
versity, Dr. Armstrong wrote The Human Odyssey, which details the twelve life stages and explains their tasks and challenges. He also deals with life stages in both biological and spiritual terms. In addition to describing each stage and laying out the importance and purpose of each part of life, Dr. Armstrong gives contemporary anecdotes and statistics, even weaving in examples and ideas from history, literature, philosophy, myth, and cultural rituals from around the world.
A frequent contributor to publications from Ladies Home Journal and Parenting to The Journal of Transpersonal Psychology, and a guest on several national news programs such as The Today Show and CNN, he has written thirteen books with world-wide circulation in over twenty languages and his works have been the subject of pieces in The New York Times, The Washington Post, Redbook, and more. Dr. Armstrong has also spoken to hundreds of audiences across the United States and in sixteen countries. His previous work has focused on multiple intelligences and has also looked extensively at children and learning.
Dr. Armstrong's books have won myriad awards and The Human Odyssey has been praised by many other researchers and writers in the field. Joseph Chilton Pearce, the author of The Crack in the Cosmic Egg and Magical Child, calls The Human Odyssey "superb, magnificent, astonishing, unique, engrossing, eminently readable, informative, enjoyable, entertaining, profound." Ralph Metzner, Ph.D, author of Maps of Consciousness, says that "Armstrong shows the way to a truly integrated understanding of the complexities of the human life cycle."
Dr. Armstrong lives in Northern California and maintains a blog to talk about the ideas and questions raised by his books.
—Caroline Patton & Lauren Kuhl
http://www.thehumanodyssey.com