I'm thrilled to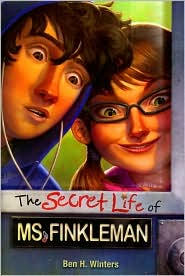 announce that Ben H. Winter's THE SECRET LIFE OF MS. FINKLEMAN has been nominated for an Edgar Award for Juvenile Fiction!
The award, sponsored by the Mystery Writers of America, honors the best in mystery fiction, non-fiction and television and is named for Edgar Allan Poe. This year marks the 202nd anniversary of his birth.
THE SECRET LIFE OF MS. FINKLEMAN starts with a Special Project in Mr. Melville's Social Studies class: Solve a mystery in your own life. For seventh grader Bethesda Fielding, one mystery is too tempting to ignore: Ms. Finkleman. She appears to be just the boring old mousy music teacher, but Bethesda is convinced there's more to her story and she is determined to get to the bottom of it…
The LA Times says Winters "applies a light touch that fuses youthful, scholarly exuberance with the inspirational power of rock 'n roll. Together, they're a potent force for bringing together kids of disparate skills and temperaments in a fast paced and unjaded book that is sure to delight."
Best yet, the next Ms. Finklman book, THE MYSTERY OF THE MISSING EVERYTHING, is coming out next fall!
–Molly Lyons