At the beginning of Lynn Kiele Bonasia's debut novel Some Assembly Required, thirty-nine year old Rose's life seemed to be well in order; she has a career writing instruction manuals, lives in Boston, and is happy with Martin, her boyfriend of four years. But she finds herself in need of some instructions of her own when she discovers that Martin has been cheating on her. So begins a journey of self-discovery as Rose decamps for the beach town of Nauset on Cape Cod, where she encounters several of the town's quirky inhabitants, embarks on a new romance with the town's prodigal son, and begins to uncover the truth behind a long buried secret. Most of all, though, Rose uncovers the joy of a life lived without instructions but rather with laughter, spontaneity, and a sense of adventure.


Bonasia knows the terrain intimately. A frequent summer visitor to the Cape as a child, she moved there permanently at age fifteen. As a year-round resident, she was initiated into the secret life of the beachfront communities, the characters, stories, and rituals that are seldom visible to the tourist or the casual visitor. Bonasia recounts on her website how she and her family "were ushered by new friends into a world of local hangouts and characters who often had little in common except their love of the sea." This background and knowledge comes through in the novel, infusing the story and the particular personalities who inhabit it.
Bonasia'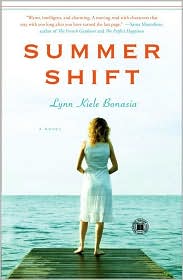 s newest novel Summer Shift is also set in Cape Cod. However, while Rose journeys to the Cape to escape, Summer Shift's Mary Hopkins is already stuck. A forty-four-year-old clam bar owner, she is trapped by the cycle of her seasonal business and feels life is passing her by. However, Mary's world is turned upside-down with the sudden death of a young waitress, which stirs up buried emotions regarding the death of Mary's husband fourteen years ago, and also brings back a lost love. Matters are complicated further by the suspicion that Mary's beloved aunt is suffering from Alzheimer's disease. In the face of these challenges, Mary remains anchored by the relationships that keep her afloat, as Summer Shift depicts a woman's search for the peace, love, and human connection that have been absent from her life until now.
According to Publishers Weekly, "Bonasia once again mines her Cape Cod upbringing with a cast of coastal small-town characters…[she] delivers a delightful…story of love and redemption." Booklist states that "she has a gift for vivid and invention descriptions and a clear affection for and understanding of her characters…"
Bonasia's first young adult novel, Countess Nobody, journeys away from Cape Cod and explores new territory in the suburban world of teenage twins who discover their noble French blood. It will make its royal debut in the summer of 2011.
www.lynnkielebonasia.com
— Caroline Patton & Lauren Kuhl
View all authors