What could be bett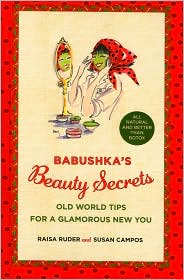 er than Botox? A few years back I wrote an article for the New York Times Magazine about Raisa Ruder, a Russian born aesthetician who contended that her all-natural beauty potions could take on Botox any its ilk any day. Hollywood agreed: Raisa has used her Ukrainian grandmother's tried-and-true recipes on everyone from Madonna to Kelly Preston to Nicole Kidman.
Her get-gorgeous-for-less tricks were too good not to share, so we teamed up to write a book, BABUSHKA'S BEAUTY SECRETS: Old World Tips For A Glamorous New You (Grand Central Publishing). The recipes are easy, quick and inexpensive.
Here's one our favorite summer recipes:
Strawberry Scrub
Keep your hands and feet feeling fresh and renewed with this homemade scrub.
9 strawberries
2 tablespoons olive oil
1 teaspoon sea salt
Mix all the ingredients in a blender on high for about 2 minutes. Now massage into the hands an feet for 10 minutes. Rinse it off and pat dry. Strawberries contain a natural fruit acid that is fantastic for exfoliating.